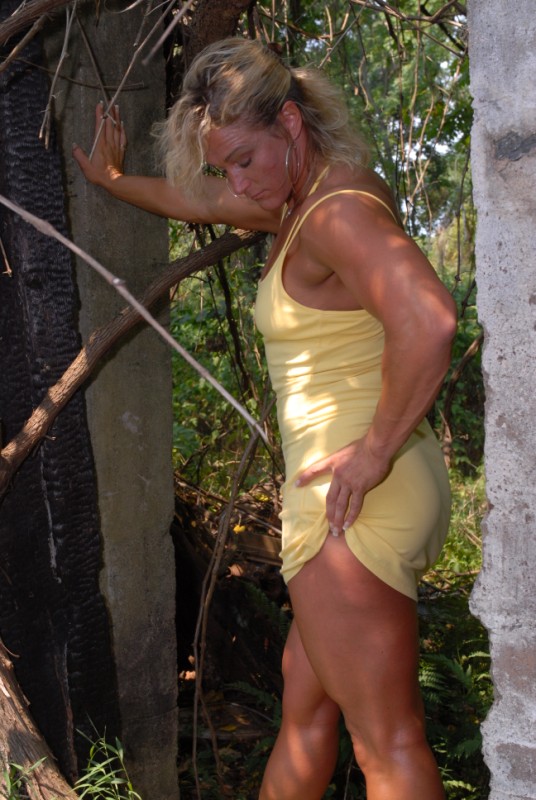 Blonde Amazon
---

295 NW Commons Loop Ste.115-377
Lake City, FL 32055
Phone: 386 935-4283 Fax: (386) 935-4283 or
edwardwinik@yahoo.com
---
6'0 212lbs of beautiful Muscle!!
Stats: 6-0 212 pounds, born 1965

Biggest Lifts:

Bench Raw: 255

OH Shoulder Press: 135 for reps

Bicep Curl with BB: 110 for reps

Pulldowns Wide Grip: 260

Partial Deadlift: 360

Leg Press: 1100

Location: Ft. Myers, FL
Specialities: Fantasy & semi-competitive wrestling, scissors sessions, muscle worship and foot worship

Contact Info E-mail: pony_girl1965@yahoo.com

Additional Information Blonde Amazon says: "Ready to make your acquaintance! New to area and looking for lift and carry sessions (although I cannot lift anyone overhead), fantasy wrestling, semi competitive wrestling, scissor holds, muscle worship and foot worship. Was an exotic dancer for a number of years, have benched up to 255 lbs and currently working as a fitness model I am sure I can combine the right amount of beauty and physical strength to meet your needs. I prefer to work with men under 180 lbs and with a waist of 34 and below so as I can lock my legs around them properly. I work outcall only. An athlete all my life, I have competed in Volleyball, basketball, menís baseball and Rodeo in the past, I am also an accomplished equestrian."


Blnde Amazons picture gallery

Ordering instructions:

Visa or MasterCard:
Order line 386 935-4283               Make check or money order payable to:
Fax (386) 935-4283
                Mass Muscle
                                      2109 US HWY 90 West Ste.170-377
                                      Lake City, FL 32055    

---